Hurry up! Only
10

items left in stock.
Are you experiencing neck pain and not being able to rest or sleep properly?
Are you missing on daily fun life & activities due to neck, shoulder or back pain?
Are you tired of wasting your money on unlimited massages that help a little or not at all?


Meet Australia's number #1 Highest Rated Pain Cervical Pillow is here to change your life & give you instant relief from the 1st night. Get rid of your Neck, Shoulder & Back Pain Today.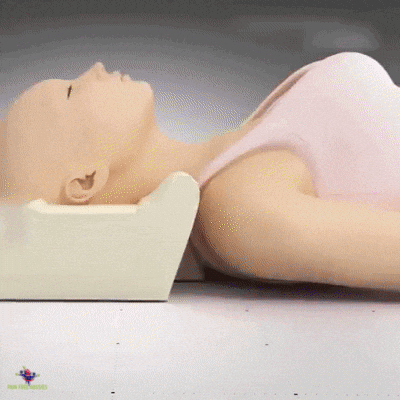 Last year in 2021, more than 45% of people were reported struggling to have a peaceful sleep every night. Since we spend 1/3rd (8hrs/day) of our lives sleeping. Having a peaceful sleep is one of the major reasons for having a beautiful, stress-free and pain-free life. Poor sleep is a cause of having neck, back & shoulder pains, snoring, headaches, heartburn, cramps, sleep apnea and not being able to work productively the next day when you wake up. 


Pain Free Cervical Pillow is scientifically designed by the top sleep experts around the world to perfectly support and align your head, neck, shoulders and back to help you wake up feeling fully recharged and ready to take on the day.                          
 
How Does It Work?
When the 65° convex side panels support your neck effectively, you keep perfect alignment while sleeping. The other 75° wedge extensions balance the flow in your airway, which further reduces snoring & sleep apnea in order to provide you with the best and most comfortable sleep possible.   

KEY BENEFITS:

✔️ No More Neck, Shoulder & Back Pain
✔️ Save Money on Weekly Massages
✔️ Reduces Puffiness, Wrinkles, & Eye bags on Your Face
✔️ Tested for Guaranteed Comfort
✔️ Keeps the Spine Straight, Increases Airflow & Minimises Snoring
✔️ Keeps Spine in Shape While sleeping
✔️ Eliminates Snoring with Scientific Proven Angle Shape
✔️ Supports Cervical & Prevents from any Damage While Rolling
✔️ Improves Face Glow & Overall Health
✔️ Helps with Sinus & Sleep Apnea
✔️ 30 Days Money Back Guarantee
✔️ Machine Washable
SPECIFICATIONS:


Our Pillows are made of Premium-Quality Memory Foam. The Pain Free Cervical Pillow comes with its own pillowcases designed with a Cotton/Polyester lining with a recyclable plastic zipper at the back.

The pillows are very soft on touch, latex-free and have no extra chemicals or odors. All the pillows come with their own pillowcase, which is easily machine washable.

Our most famous King Size: (60cm Length, 35cm Width, and 6-11cm Depth). It comes with a Free Silk Eye Mask &  FREE Noise Cancellation Ear-buds. 

MONEY BACK GUARANTEE:

Sounds too good to be true? Just try out our Pain Free Cervical Pillow
 for 
30 nights! If you are not satisfied, we simply take it back - no questions asked. That is how confident we are, since 10,000+ other Aussies have used and benefited from our Pain Free Cervical Pillow.