Secure and trusted checkout with
Hurry up! Only
8

items left in stock.
Are you tired of sore muscles and knots?
Are you ready to roll your way to relaxation and recovery?
Do you want to know how vibration therapy can supercharge your recovery?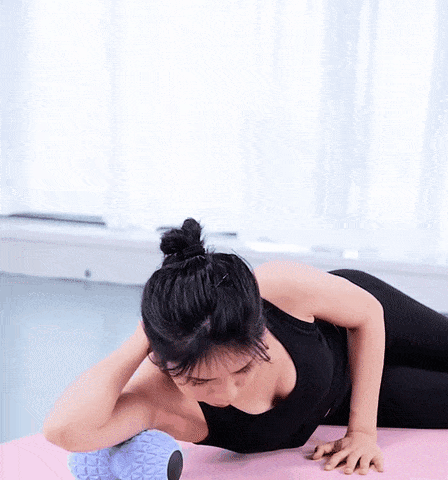 Meet the Vibrating Roller Massager, your ultimate solution for full-body relaxation and recovery. It combines cutting-edge technology with a compact and powerful design. Offering a deep tissue massage experience, it aids in faster recovery, natural discomfort relief, and enhanced well-being. Ideal for boosting circulation, easing tension, reducing stress, and promoting better sleep, the Vibrating Roller Massager's high-density surface targets trigger points and releases tension effectively.


How Does It Work?
The Vibrating Roller Massager enhances the benefits of traditional foam rolling or manual massage by adding vibration therapy. This combination can help you recover faster, reduce muscle soreness, improve flexibility, and promote overall relaxation and well-being.
Key Benefits:
✔️ Reduces Post-Workout Soreness & Promotes Faster Recovery
✔️ Increases Joint & Muscle Flexibility, Enhancing your Range of Motion
✔️ Offers a Cost-Effective Alternative to Regular Professional Massages
✔️ Alleviates Muscle Knots, Trigger Points, & Tension
✔️ Provides Natural Relief for Sore Muscles & Joints
✔️ Stimulates Blood Flow, Delivering Oxygen & Nutrients to Muscles
✔️ Promotes Relaxation & Reduces Stress Levels
✔️ Improves Overall Well-Being
✔️ Contributes to Improved Sleep Quality
✔️ Helps Relax & Loosen Muscles
✔️ 30-Day Money-Back Guarantee
Specifications:
The Vibrating Roller Massager features four vibration intensity levels and boasts an impressive 120-minute battery life per charge, ensuring a convenient and rejuvenating massage session whenever needed, making it an essential addition to your wellness routine.
Colour: Black, Blue, Sky Blue, Purple, Pink
Dimension: 20 cm x 10 cm


Package List:
1 x Vibrating Roller Massager
1 x Free Carry Bag
1 x USB-C Charging Cord


30-Day Money-Back Guarantee
We are confident that you will love the benefits of our Vibrating Roller Massager and the positive impact it can have on your well-being. We believe in the effectiveness and quality of our product, and we want you to experience the relief and relaxation it can provide with absolute peace of mind. Your satisfaction is our top priority, and we're committed to helping you achieve your wellness goals.
Delivery Timeframes:

Standard Shipping: FREE of cost and takes 6-12 working days.

Express Shipping: $6.99 comes between 4-10 working days. 

Shipping Process:
Order Processing

: Orders are usually shipped within 24-48 hours.




Tracking Information

: Once your order has shipped, you will receive an email with tracking details. This allows you to monitor the progress of your order until it reaches its destination.




Multiple Items Ordered

: If you order multiple items in a single order, they may ship from multiple locations based on stock availability. This is done to ensure that you receive your full order as quickly as possible.
Track My Order:

Simply click on Track Your Order tab at the top of the page or click on this link: https://painfreeaussies.com.au/apps/tracktor/track


Efforts to Expedite Shipping:
Dedicated Monitoring Team

: We have an outstanding team that monitors the status of in-transit packages on a daily basis. Just send us an email on

support@painfreeaussies.com.au

and we will help you with your query.




Urgent Measures: Our team takes prompt and necessary measures to ensure quicker and safer shipping, even in the face of unexpected delays.


Package Return Scenarios:
Inaccurate/Incomplete Address: If the address provided is inaccurate or incomplete, the carrier may be unable to deliver the package and it may be returned.

Refused: If the recipient refuses to accept the package, it will be returned.

Unclaimed: If the recipient does not claim the package within a specified time period, it may be returned.

Recipient Not Located at Address/Moved: If the recipient cannot be located at the provided address or has moved, the carrier may be unable to deliver the package, resulting in a return.

Unknown Reason: There may be cases where the package is returned for reasons unknown or not specified.
Steps to Take:
Contact Us: You can also get in touch with us (customer support) to inquire about the return and explore the possibility of redelivery. Message us via Contact Us (https://painfreeaussies.com.au/pages/contact-us) page and we'd love to help you.