Knee Pillow Memory Foam - MEMORY FOAM - FOR BACK DISCOMFORT, SIDE SLEEPERS & PREGNANCY
AUD $44.99
AUD $90
On sale
Secure and trusted checkout with
Hurry up! Only
11

items left in stock.
Are you ready to escalate your comfort level to ultra-cosy?
Are you suffering from not having quality sleep overnight?

Do you find yourself tossing and turning overnight and having sleepless nights?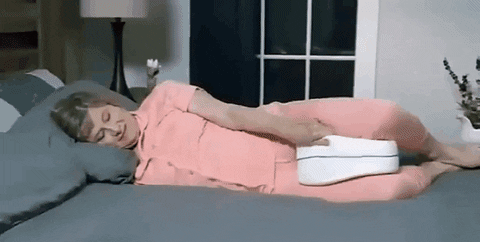 Introducing the Memory Foam Knee Pillow which is useful for relieving muscle cramps or tension and directly relieves pressure and reduces stress on the lower body. This product is designed to provide proper sleeping alignment and position to eliminate aching pressure points in the body, which helps in providing longer and deeper sleep to the users.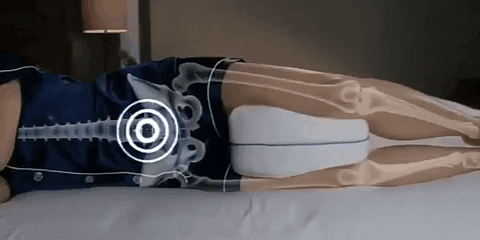 HOW IT WORKS:
Comfortable, and highly portable, this Memory Foam Knee Pillow provides pressure relief indirectly by promoting spinal alignment. 

The thickness and firmness of the knee pillow impact how well it relieves pressure in the knees. It also helps to get quality sleep throughout pregnancy. 

With so many people's most significant problems today being high rates of sleepless nights and discomfort in general and also throughout pregnancy, there is no better time to have this foam knee pillow, which helps you relax during sleep, and reduces knee and lower back discomfort. 

KEY BENEFITS:
✔️ Reduces Knee & Lower Back Discomfort
✔️ May Relieve Muscle Cramps & Tension
✔️ Get Rid of Muscle Tension & Soreness
✔️ Prevents Your Hips From Rotating
✔️ May Reduces Knee & Lower Back Discomfort
✔️ Helps You Breathe Easier
✔️ Easy to Place, Compact, & Highly Portable
✔️ Risk-free 30 Days Money Back Guarantee
✔️ Free & Fast Shipping Australia-Wide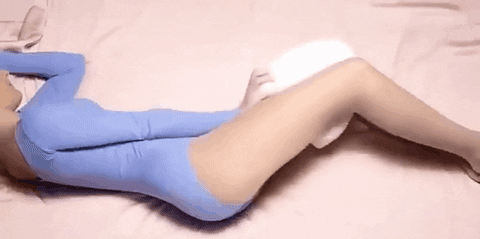 SPECIFICATIONS:
You no longer have to be concerned about your nights with the Memory knee pillow because you can now sleep soundly throughout the night without disturbance, discomfort or ache.
It has an ergonomic design that allows the foam knee pillow to contour to your shape without restricting movement or requiring you to sleep in a certain position.
It allows you to bend your knee freely to support multiple sleep positions. It fits comfortably between your legs irrespective of gender.
MONEY-BACK GUARANTEE

We offer a 30-day money-back guarantee to all our buyers. We promise that if there are any quality problems during the 30-day, we will provide a solution in good faith and guarantee a 100% refund, if applicable within the eligible time period as per our policy (T&C's apply).
Delivery Timeframes:

Standard Shipping: FREE of cost and takes 6-12 working days.

Express Shipping: $6.99 comes between 4-10 working days. 

Shipping Process:
Order Processing

: Orders are usually shipped within 24-48 hours.




Tracking Information

: Once your order has shipped, you will receive an email with tracking details. This allows you to monitor the progress of your order until it reaches its destination.




Multiple Items Ordered

: If you order multiple items in a single order, they may ship from multiple locations based on stock availability. This is done to ensure that you receive your full order as quickly as possible.
Track My Order:

Simply click on Track Your Order tab at the top of the page or click on this link: https://painfreeaussies.com.au/apps/tracktor/track


Efforts to Expedite Shipping:
Dedicated Monitoring Team

: We have an outstanding team that monitors the status of in-transit packages on a daily basis. Just send us an email on

support@painfreeaussies.com.au

and we will help you with your query.




Urgent Measures: Our team takes prompt and necessary measures to ensure quicker and safer shipping, even in the face of unexpected delays.


Package Return Scenarios:
Inaccurate/Incomplete Address: If the address provided is inaccurate or incomplete, the carrier may be unable to deliver the package and it may be returned.

Refused: If the recipient refuses to accept the package, it will be returned.

Unclaimed: If the recipient does not claim the package within a specified time period, it may be returned.

Recipient Not Located at Address/Moved: If the recipient cannot be located at the provided address or has moved, the carrier may be unable to deliver the package, resulting in a return.

Unknown Reason: There may be cases where the package is returned for reasons unknown or not specified.
Steps to Take:
Contact Us: You can also get in touch with us (customer support) to inquire about the return and explore the possibility of redelivery. Message us via Contact Us (https://painfreeaussies.com.au/pages/contact-us) page and we'd love to help you.