Hurry up! Only
6

items left in stock.
Does your neck hurt while you're driving?
Do you find your car seats causing pain in your neck & back from longer drives?
Do you feel tired while you're driving long trips?


Unfortunately, almost all of car seats are not designed to provide proper neck and spine support. As a result, people with neck pain, back pain or other posture issues feel more tired and pain while driving. 


But using the #1 leading Car Seat Headrest can now save you up to 99% of the time from feeling tired and suffering from neck and back pain. 


Key Benefits:
✔️ No More Neck, Shoulder, & Back Pain 
✔️ Maintains the Body's Natural Posture 
✔️ Eliminates Soreness in the Neck & Spine
✔️ Safe, Healthy & Premium Quality
​​✔️ Easy to Instal On Any Car Seats
✔️ 30 Day Money-Back Guarantee
✔️ Keeps Spine in Shape While Driving
✔️ Australian Made & Shipped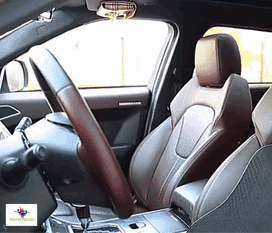 Specifications:
Our Premium Car Seat Headrest is designed to be fit and adjust in any car seat in the world. It measures 36cm in length and 30cm in width. It is shaped purely to keep the spine in its natural posture to keep your neck, shoulder, and back pain-free while you enjoy driving.


MONEY-BACK GUARANTEE:
We offer a 30 Day Money-Back Guarantee on our Car Seat Headrest. Our customers have taken a huge benefit from having a Pain Free body from this product and now they enjoy their long and short drives more than ever before.

Is delivery free?
- Yes
All of our deliveries are FAST and FREE and are expected to come within 7-14 business days.
We know you are excited to receive your new item from Pain Free Aussies, and we are too! That is why we do everything we can to ensure the delivery is completed as fast as possible so that you get your items fast.
How long till I get my item from Pain Free Aussies?
All orders are shipped within 24-72 hours or purchase, ensuring that you receive your items as soon as possible. Your tracking number will be attached once your order has been dispatched and it may take up to 2-3 business days for the tracking system to update once the order has been shipped.

You will receive your order usually within 7-14 business days of placing your order, it is largely dependent on how fast Aus Post, Toll and Aramex are since their enterprise is experiencing large volumes of package delivery due to Covid-19. Still, 95% of our customers have been receiving their orders with in 5-10 working days.