Hurry up! Only
7

items left in stock.
Do you suffer from frequent or chronic pain in your hands and fingers?
Do you have stabbing pains, discomfort & soreness in your hands and wrists?
Do you have arthritis, carpal tunnel, tendonitis, joint fatigue, inflammation, stiffness & more?
Do you feel hand tiredness while working, gaming or enjoying creating arts? 


Introducing Australia's highest performing Compression Gloves for arthritis, osteoarthritis, joint pain and fatigue, carpal tunnel, gaming, artists, or just physical workers.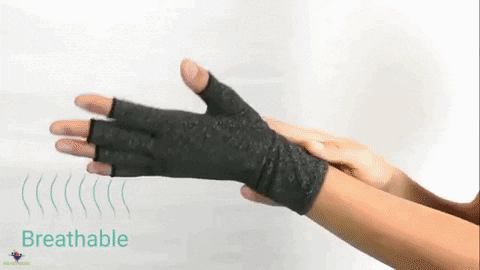 Do you know?

1 in every 3 people suffers from hand pain at some stage of their life and end up having arthritis or some other hand pain problems. Hands are used in more than 90% of daily activities.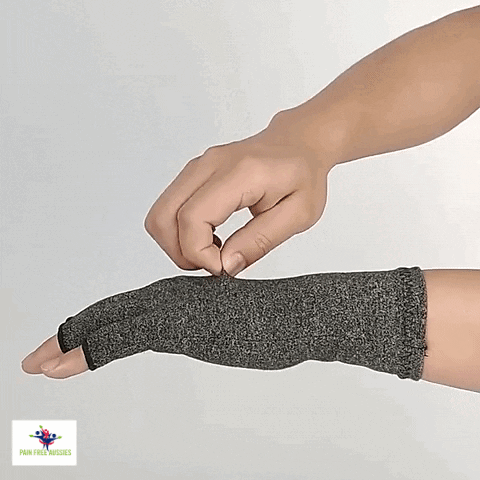 Pain Free Aussies highest performing gloves are here to give your hands extra support by providing gentle compression and therapeutic heat through your hands and wrists to save you from hand pains and increase daily productivity.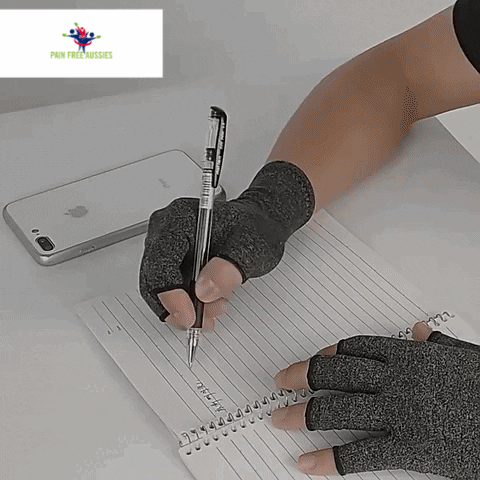 Key Benefits:

✔️ Relieves & Prevents Severe Joint Pain
✔️ Instantly Eases Pain, Effective on Stiff Finger Joints
✔️ Works Best on Arthritis Pain & Carpal Tunnel
✔️ No More Inflammation, Swelling & Distortion 
✔️ Recovers Hand Injuries & Prevents Discomfort
✔️ Increases Daily Productivity & Keeps Hands Fresh
✔️ Instant Relief from Tender Joints & Stiffness
✔️ Strengthen the Bones, Muscles & Joints
✔️ Increases Blood Circulation & Tissue Repair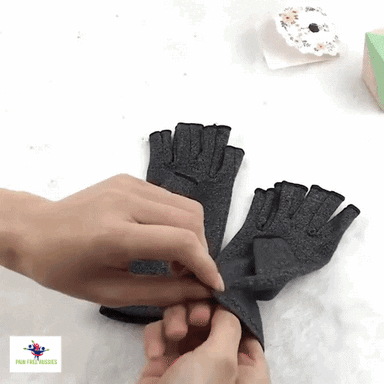 Luxury & Skin Friendly Material:

Our hand gloves are made of a soft breathable fabric blend of cotton & spandex lycra. The open fingertips style allows freedom to feel, grip & touch even when using electronic handheld devices, cooking, typing, writing or doing general house chores.

Easy to wash - Hand washes only with cold water and gentle soap.  



30 Days Money Back Guarantee
Try out our Pain-Free Compression Gloves for 30 Days! If you are not satisfied, we simply take it back - no questions asked. That is how confident we are since 20,000+ other customers have used and benefited from our Pain-Free Compression Gloves. 

Is delivery free?
- Yes
All of our deliveries are FAST and FREE and are expected to come within 7-14 business days.
We know you are excited to receive your new item from Pain Free Aussies, and we are too! That is why we do everything we can to ensure the delivery is completed as fast as possible so that you get your items fast.
How long till I get my item from Pain Free Aussies?
All orders are shipped within 24-72 hours or purchase, ensuring that you receive your items as soon as possible. Your tracking number will be attached once your order has been dispatched and it may take up to 2-3 business days for the tracking system to update once the order has been shipped.

You will receive your order usually within 7-14 business days of placing your order, it is largely dependent on how fast Aus Post, Toll and Aramex are since their enterprise is experiencing large volumes of package delivery due to Covid-19. Still, 95% of our customers have been receiving their orders with in 5-10 working days.