Hurry up! Only
7

items left in stock.
Australia's #1 Compression Socks that help to relieve Swelling, Arthritis and balance High & Low Blood Pressure, alleviate any type of pain and Increase Productivity to the maximum.


Compression Socks work by promoting improved blood flow in your legs. The compression of the socks gently pushes blood flow up the leg, helping to prevent swelling and even blood clots.
Many people get benefit from compression socks after surgery, during pregnancy, having legs swelling, joint or calf pain or the appearance of varicose veins or as their legs become achy, swollen or feeling heavy. 


"I have had my feet swollen and painful for the past 6 months. Nothing worked as well as the Compression Socks from Pain-Free Aussies'. I used to wake up in the middle of the night with a lot of pain and discomfort in my calves and feet. These socks work like magic. It keeps my lower legs and feet very comfortable. Bought X3 more pairs". ⭐️⭐️⭐️⭐️⭐️ - James B

KEY BENEFITS:
✔️ Super Easy to Take On & Off
✔️ Skin Friendly
✔️ Improves Blood Circulation
✔️ Reduce Swelling, Inflammation & Edema
✔️ Eliminates Pain Caused by Varicose Veins
✔️ No More Leg Cramps & Swollen Ankles

✔️ Reduce the chances of the Formation of Blood Clots
✔️ Decreases Restlessness, Discomfort & Tiredness in Legs

✔️ Comfortable, breathable & Light-Weight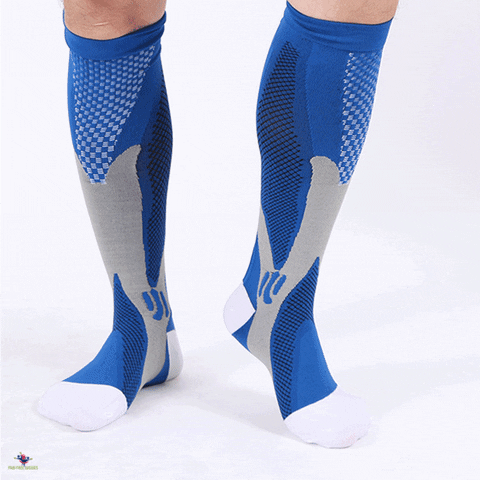 Pain-free Aussies compression socks are unisex and made from top-quality polyester cotton material. It comes in 3 colours: Blue Black and Pink.
Compression socks from Pain-free Aussies can be worn for most of the active hours during the day. These can be worn while Walking, Running, Long Drive, Exercising, Hiking, Workout,  Cycling, Climbing, Walking, Jogging or even Picking up your child from school, working from home, going on an outing with friends, and several day-to-day activities.

Why buy compression socks from Pain-free Aussies?
✔️ #1 Highest Rated Compreession Socks. 
✔️ Affordable prices & Premium Quality
✔️ Trusted by 15,000 Customers 
✔️ 30 Day Money Back Guarantee
✔️ Fast & Free Delivery
✔️ 24/7 customer support on chat
✔️ Recommended by the Doctors

Buy Pain-free Aussies compression socks today and see the visible difference in the quality of your life.

Is delivery free?
- Yes
All of our deliveries are FAST and FREE and are expected to come within 7-14 business days.
We know you are excited to receive your new item from Pain Free Aussies, and we are too! That is why we do everything we can to ensure the delivery is completed as fast as possible so that you get your items fast.
How long till I get my item from Pain Free Aussies?
All orders are shipped within 24-72 hours or purchase, ensuring that you receive your items as soon as possible. Your tracking number will be attached once your order has been dispatched and it may take up to 2-3 business days for the tracking system to update once the order has been shipped.

You will receive your order usually within 7-14 business days of placing your order, it is largely dependent on how fast Aus Post, Toll and Aramex are since their enterprise is experiencing large volumes of package delivery due to Covid-19. Still, 95% of our customers have been receiving their orders with in 5-10 working days.