Hurry up! Only
6

items left in stock.
Do you feel lower back pain and knee pain from constantly bending down and kneeling in your garden and home?
Are you tired of not being able to enjoy your gardening or other tasks that require you to sit down?

That is where our Garden Kneeler & Seat comes in to save you from pain and discomfort. It is designed, after years of testing, for the community to
enjoy
tasks such as gardening, floor cleaning and any other mechanical work that requires you to bend down on your knees to work smoothly and effectively.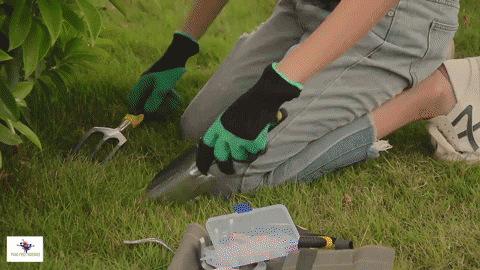 It has saved 12,000+ Customers from knee and back pain injuries and allowed them to sit longer on their knees while they enjoy doing the work. Our Gardening Kneeler has helped our customers who
have
chronic back pain, knee pain and arthritis, therefore
can
not do such tasks. By purchasing our product you will dramatically reduce the chances of gaining chronic injuries that will cause you to spend $1,000s on surgery and treatments in the future.

SIMPLE & EASY DESIGN:
Our Gardening Kneeler is designed to simply improve your sitting time, allowing you to complete tasks with less pain and more enjoyment. It is the ideal size tool that can be taken anywhere due to its total weight of only 2kg and can support up to 150kg.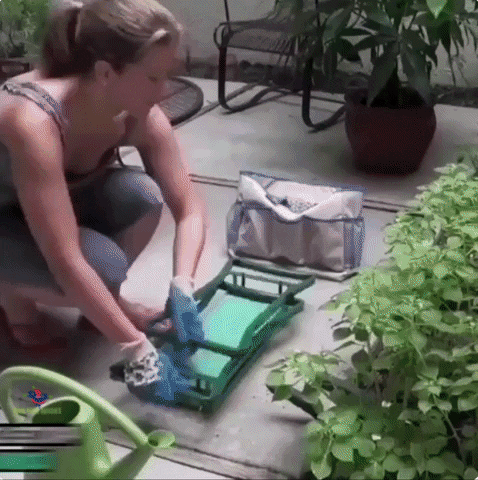 It's also foldable and has big side pockets so you can carry all of your essential tools without having to relocate once you have started on your favourite task. In addition, it can be transformed into a sitting bench that can be used for taking breaks, resting, eating and drinking at the same time. Our customers utilise it for a variety of indoor and outdoor activities, including camping, gardening, cleaning, and other household chores.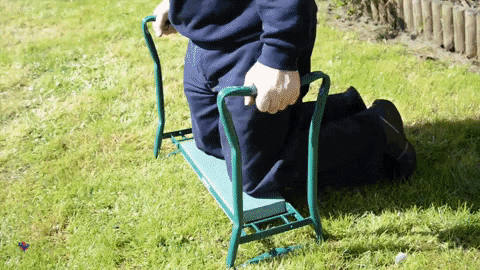 KEY BENEFITS:
✔️ Prevents Knee & Back Injuries
✔️ Eliminates Chronic Pain & Discomfort
✔️ Allows for Longer Working & Sitting Times on the Knees
✔️ Big Side Pockets for All the Essential Tools
✔️ Can be Transformed into a Sitting Bench in 5 Seconds
✔️ Australian Made & Shipped ​​
✔️ Long-Lasting & Durable
✔️ Can Hold up to 150kg
✔️ 30 Days Money-Back Guarantee
✔️ Used & Trusted by 12,000+ Farmers & Tradies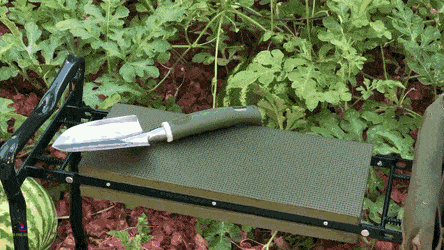 30 Days Money-Back Guarantee:
Our customers have benefited massively from our Gardening Knee Wheeler. It has been trusted and used by tens of thousands of Customers. We are highly confident that this tool will not only save you from injuries and aches but also make you fall in love with it while you sit on it for hours and enjoy working. We offer a 30-day money-back guarantee on this. So you can be free & have peace of mind.

Is delivery free?
- Yes
All of our deliveries are FAST and FREE and are expected to come within 7-14 business days.
We know you are excited to receive your new item from Pain Free Aussies, and we are too! That is why we do everything we can to ensure the delivery is completed as fast as possible so that you get your items fast.
How long till I get my item from Pain Free Aussies?
All orders are shipped within 24-72 hours or purchase, ensuring that you receive your items as soon as possible. Your tracking number will be attached once your order has been dispatched and it may take up to 2-3 business days for the tracking system to update once the order has been shipped.

You will receive your order usually within 7-14 business days of placing your order, it is largely dependent on how fast Aus Post, Toll and Aramex are since their enterprise is experiencing large volumes of package delivery due to Covid-19. Still, 95% of our customers have been receiving their orders with in 5-10 working days.