Hurry up! Only
5

items left in stock.
Are you suffering from lower back and leg pain?

Is your pain traveling from your upper neck to your lower back or to your knee?

Do you have Varicose Veins?



Then you are in the right place to get the solution. Our highly demanded Pain-Free Back Pillow is now back in stock. It is also designed to benefit those with respiratory problems, hiatus hernia, heart conditions and gastric reflux.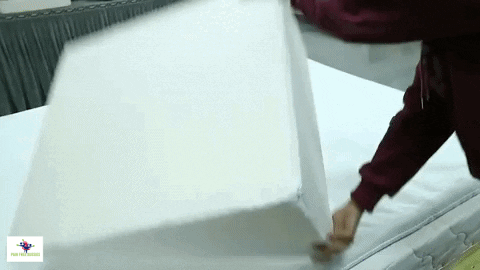 A Back Pillow that relaxes all your muscles, from all the way up the upper neck to the lower back and knees. It is designed scientifically after years of research by highly qualified professionals.



Key benefits:

✔️ Relieves Neck, Leg, Hip & Knee Pain
✔️ Minimizes Acid Reflux, Heartburn & Indigestion
✔️ A Great Pain Reliever During Pregnancy
✔️ Reduces Swelling and Inflammation by Providing Extra Support to the Body. 
✔️ Maintains a Better Posture & Improves Blood Circulation
✔️ Relaxing the Body After a Long, Tiring Day at Work 
✔️ Speeds Body Recovery from Injuries & Daily Tissue Breakages
✔️ Can Turn Your Bed Into a Comfortable Recliner
✔️ Helps Varicose Veins
✔️ Eliminates Inflammation, Swelling & Edema
✔️ FREE & FAST Shipping Australia Wide
✔️ Australian Made & Shipped
✔️ Recommended by Physiotherapists and Chiropractors.


Specifications: 


It is chemical-free & easily washable Free Cover Included.


30 Day Money Back GUARANTEE
Try out our Pain-Free Back Pillow for 30 nights! If you are not satisfied, we simply take it back - no questions asked. That is how confident we are since 11,000+ other Customers have used and benefited from our Pain-Free Back Pillow. 

Is delivery free?
- Yes
All of our deliveries are FAST and FREE and are expected to come within 7-14 business days.
We know you are excited to receive your new item from Pain Free Aussies, and we are too! That is why we do everything we can to ensure the delivery is completed as fast as possible so that you get your items fast.
How long till I get my item from Pain Free Aussies?
All orders are shipped within 24-72 hours or purchase, ensuring that you receive your items as soon as possible. Your tracking number will be attached once your order has been dispatched and it may take up to 2-3 business days for the tracking system to update once the order has been shipped.

You will receive your order usually within 7-14 business days of placing your order, it is largely dependent on how fast Aus Post, Toll and Aramex are since their enterprise is experiencing large volumes of package delivery due to Covid-19. Still, 95% of our customers have been receiving their orders with in 5-10 working days.