Secure and trusted checkout with
Hurry up! Only
7

items left in stock.
Are you tired of daily tension and stress?
Are you ready to kiss the neck discomfort goodbye?
Do you want to relieve muscle tension, improve blood circulation, and promote
relaxation? 
Meet the Self-Neck Massager - a versatile and easy-to-use massage tool designed to
alleviate neck knots and tension. With its 360° rotation feature, you can customise the
angle, speed, and intensity to suit your specific massage needs, providing instant relief
from sore muscles and headaches. Its compact, handheld design allows you to target
hard-to-reach areas, such as the neck, shoulders, and upper back, with a smooth and
gentle touch suitable for all skin types.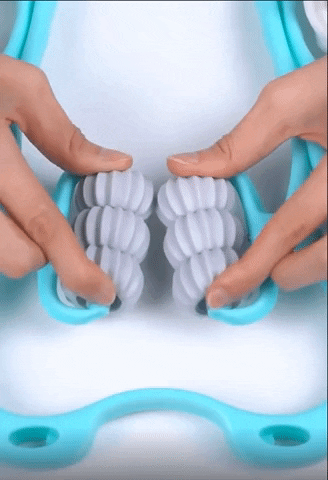 How Does It Work?
Using the Self-Neck Massager for just a few minutes a day can lead to long-term benefits, making it a convenient and drug-free solution for tight and aching muscles. It works by applying targeted pressure and manipulation to the muscles and tissues in the neck and surrounding areas. Say goodbye to discomfort and hello to renewed energy with the Self-Neck Massager.
Key Benefits:
✔️ Reduces Tension Headaches caused by Muscle Tightness
✔️ Helps Alleviate Neck Discomfort & Muscle Tension
✔️ Targets Specific Muscle Knots & Tightness
✔️ Offers a Cost-Effective Alternative to Professional Massages
✔️ Stimulates Blood Flow in the Treated Areas
✔️ Promotes an Overall Sense of Well-Being
✔️ Enhances Neck & Shoulder Mobility
✔️ Provides Relief for Various Muscle Groups
✔️ 30-Day Money-Back Guarantee


 Specifications:
With a 360° adjustable rotation, users can customise the angle, speed, and intensity of their massage, allowing for a personalised experience that meets individual comfort levels and therapeutic needs. The compact, handheld design ensures ease of use, enabling precise targeting of pressure points and muscle knots in the neck, shoulders, and upper back. Crafted with a smooth, skin-friendly surface, it caters to all skin types, ensuring a gentle and soothing massage experience.
Package List:
1 x Self-Neck Massager
30-Day Money-Back Guarantee:
We are confident in the effectiveness of our Self-Neck Massager, and we want you to experience its benefits with complete peace of mind. That's why we offer a 30-day money-back guarantee. Your satisfaction is our top priority, and we are committed to ensuring your well-being and comfort with our product. Try it risk-free today and discover the difference it can make in your life.
Delivery Timeframes:

Standard Shipping: FREE of cost and takes 6-12 working days.

Express Shipping: $6.99 comes between 4-10 working days. 

Shipping Process:
Order Processing

: Orders are usually shipped within 24-48 hours.




Tracking Information

: Once your order has shipped, you will receive an email with tracking details. This allows you to monitor the progress of your order until it reaches its destination.




Multiple Items Ordered

: If you order multiple items in a single order, they may ship from multiple locations based on stock availability. This is done to ensure that you receive your full order as quickly as possible.
Track My Order:

Simply click on Track Your Order tab at the top of the page or click on this link: https://painfreeaussies.com.au/apps/tracktor/track


Efforts to Expedite Shipping:
Dedicated Monitoring Team

: We have an outstanding team that monitors the status of in-transit packages on a daily basis. Just send us an email on

support@painfreeaussies.com.au

and we will help you with your query.




Urgent Measures: Our team takes prompt and necessary measures to ensure quicker and safer shipping, even in the face of unexpected delays.


Package Return Scenarios:
Inaccurate/Incomplete Address: If the address provided is inaccurate or incomplete, the carrier may be unable to deliver the package and it may be returned.

Refused: If the recipient refuses to accept the package, it will be returned.

Unclaimed: If the recipient does not claim the package within a specified time period, it may be returned.

Recipient Not Located at Address/Moved: If the recipient cannot be located at the provided address or has moved, the carrier may be unable to deliver the package, resulting in a return.

Unknown Reason: There may be cases where the package is returned for reasons unknown or not specified.
Steps to Take:
Contact Us: You can also get in touch with us (customer support) to inquire about the return and explore the possibility of redelivery. Message us via Contact Us (https://painfreeaussies.com.au/pages/contact-us) page and we'd love to help you.