Secure and trusted checkout with
Hurry up! Only
7

items left in stock.
Are you always concerned about yourself, your kids or the elderly living at home slipping on wet floors? 

Are you sick and tired of drying or cleaning wet and dirty floors all day to keep the house clean?
Are you tired of your ordinary floor mats being endlessly dirty and having to wash them too often? 


 Introducing the Super Absorbent Floor Mat, which has a built-in premium non-slip rubber on the bottom and a firm grip to increase the safety and stability of every family member, from kids to the elderly. The Super Absorbent Floor Mat absorbs all the water in under 1 minute. It's now time to say goodbye to your floppy and sloppy floor mats.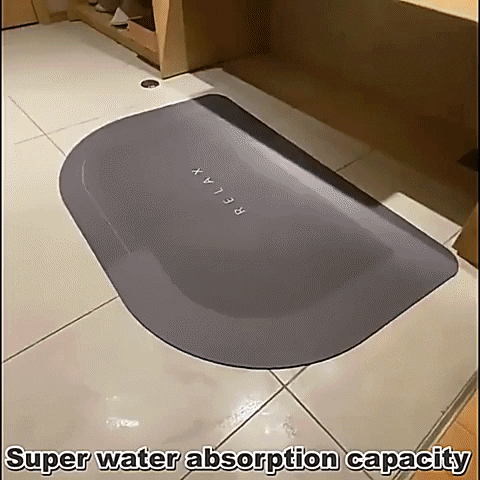 Key Benefits: 

✔️ No More Worrying About Constantly Changing wet Mats

✔️ Get Rid of Dirty, Sticky & Wet Floors

✔️ Protects Kids & the Elderly from Slipping on Wet Floors

✔️ Absorb All of the Water in a Single Minute

✔️ Kills the Germs & Bacterias

✔️ Very Soft, Warm & Comfortable
✔️ Absorb Any Liquid: Water, Oil or Soap

✔️ Gives Your Washroom an Elegant Look 

✔️ Easy to Use & Easy to Clean

✔️ Made from Non-Slip Rubber & Anti-Skid Materials

✔️ Improves Safety & Stability

✔️ Gives Your House an Elegant Look 

✔️ Colors that Match with Any Floor

✔️ Suitable for Bathroom, Laundry Room, Home Entrance or Bedroom



How Does It Work?  
Our Super Absorbent Floor Mat is fast and efficient in water absorption and leaves your house spotlessly clean. It can absorb water or any spilled liquid in seconds without any accumulation so that you'll never worry about your floor being sticky, dirty or crappy ever again. The constant need to wipe off any sprinkles or oil stains on your floor can be challenging and exhausting. Most notably, it causes damage to the floor. That's why with our very own Super Absorbent Floor Mat you can just easily place it on the floor and let it do its work.


According to research in 2021, it shows that every year, an average of $11 billion is spent on medical expenses and treatments for people from slip-and-fall accidents. For that reason, our Super Absorbent Floor Mat was invented to withstand slippery floors, and because it dries up faster than your ordinary floor mats. The Super Absorbent Floor Mat improves safety and stability while also reducing slip-and-fall accidents and protecting people's health and wellness.

Specifications:
Our Super Absorbent Floor Mat is highly durable. It can be easily cleaned with a sponge or brush. It is available in two different shapes: oval and rectangular, with sizes ranging from 40x60 cm to 50x80 cm, 60x90 cm, and 45x150 cm.

30 Days Money Back Guarantee:

We offer a 30-day money-back guarantee to all our buyers. We promise that if there are any quality problems during the 30-day, we will provide a solution in good faith and guarantee a 100% refund, if applicable within the eligible time period as per our policy (T&C's apply).

Delivery Timeframes:

Standard Shipping: FREE of cost and takes 6-12 working days.

Express Shipping: $6.99 comes between 4-10 working days. 

Shipping Process:
Order Processing

: Orders are usually shipped within 24-48 hours.




Tracking Information

: Once your order has shipped, you will receive an email with tracking details. This allows you to monitor the progress of your order until it reaches its destination.




Multiple Items Ordered

: If you order multiple items in a single order, they may ship from multiple locations based on stock availability. This is done to ensure that you receive your full order as quickly as possible.
Track My Order:

Simply click on Track Your Order tab at the top of the page or click on this link: https://painfreeaussies.com.au/apps/tracktor/track


Efforts to Expedite Shipping:
Dedicated Monitoring Team

: We have an outstanding team that monitors the status of in-transit packages on a daily basis. Just send us an email on

support@painfreeaussies.com.au

and we will help you with your query.




Urgent Measures: Our team takes prompt and necessary measures to ensure quicker and safer shipping, even in the face of unexpected delays.


Package Return Scenarios:
Inaccurate/Incomplete Address: If the address provided is inaccurate or incomplete, the carrier may be unable to deliver the package and it may be returned.

Refused: If the recipient refuses to accept the package, it will be returned.

Unclaimed: If the recipient does not claim the package within a specified time period, it may be returned.

Recipient Not Located at Address/Moved: If the recipient cannot be located at the provided address or has moved, the carrier may be unable to deliver the package, resulting in a return.

Unknown Reason: There may be cases where the package is returned for reasons unknown or not specified.
Steps to Take:
Contact Us: You can also get in touch with us (customer support) to inquire about the return and explore the possibility of redelivery. Message us via Contact Us (https://painfreeaussies.com.au/pages/contact-us) page and we'd love to help you.